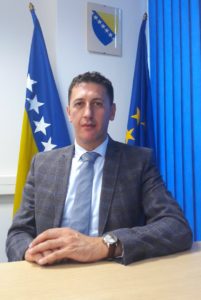 Mirsad Buzar is the Deputy Director of the Service for Foreigners' Affairs (SFA) appointed by the BiH Council of Ministers' Decision from 12 May 2017.
To this position was nominated from the post of the SFA Head of the Operations and Intelligence Support Unit that he assumed in 2008. He also worked as a Senior Associate for the SFA Operations and Planning from 2007 to 2008 that followed the tasks of the registration officer in the BiH Ministry of Security's Asylum Sector (from 2005 to 2007). His career started in 2001 in the Sarajevo Canton Ministry of Interior where he worked until the year of 2005 as an expert associate-inspector for control of movement and stay of foreigners.
Graduated from the Faculty of Political Science at the University of Sarajevo, BiH, whereas his postgraduate studies were achieved at the Faculty of Criminal Justice, Criminology and Security Studies of the University of Sarajevo with the thesis on "International Security and Diplomacy".
His professional career included a number of conferences, seminars and round tables on relevant areas, as well as series of expert trainings organized by the BiH Ministry of Security, OSCE, US Department of Justice, US Department of State Bureau of Diplomatic Security, IOM, UNHCR, UN, etc. Additionally, he was a member of many working groups of the BiH Council of Ministers tasked for drafting the strategic documents.