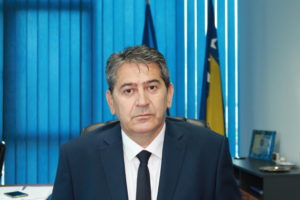 Slobodan Ujić has been appointed at position of Director of Service for Foreigners Affairs by the Decision of Council of  Ministers since December 3, 2015.
---
Prior to this appointment at the director's position, Slobodan Ujić worked as a manager  of specialized institution for admission, accommodation and removal of foreigners ( Immigration Center of SFA) located in Istočno Novo Sarajevo  in period from October 2006 up to December 2015.
---
He had been working from 1992 up to October 2006 in Police of Ministry of Internal Affairs of the Republika Srpska ( deputy, commander, chief of Station of Public Security, etc. ).
---
He has been working over twenty years in field of security, and he had completed in that period specialized trainings and courses for emergency procedures at centres for admission of migrants as well, and police training for certification of police officers in the Republika Srpska.